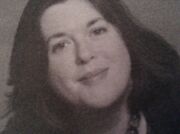 When I get letters from people who like my books, they always ask loads of really interesting (sometimes weird!) questions. So this page is meant to answer all the questions you can possibly think of. Or at least all the ones I can possibly think of.
You can always leave me a note or contact me using the buttons above if you have more!
I was born in London in 1976, but now I live just outside Reading, with my husband Jon and my three children, Tom, Robin and William.
I haven't always been a writer. I used to work as an editor at Scholastic Children's Books…
Scholastic Children's Books
Being q mrd es esto

My First Book

Scribbling on the Floor

Lots More Books

Where do my ideas come from?

Wishful Thinking

Animals

Holly Webb – brytyjska pisarka; autorka licznych (ponad sto pozycji)[1] książek dla dzieci, szczególnie podobających się małym dziewczynkom. W samej tylko Polsce sprzedało się ich ponad pół miliona egzemplarzy (stan na kwiecień 2013)[2].
Krytycy zarzucają jej schematyczność, prostotę i nadmierną słodycz. Cechą charekterystyczną jej utworów są częste zdrobnienia. Bohaterkami książek są z reguły małe dziewczynki oraz zwierzęta (koty i psy, a w dalszych utworach także chomiki, króliki i inne), którym one pomagają.
Wybrane utwory
Edit
seria "Zaopiekuj się mną"
seria "Animal Magic"
seria "Magic Molly"
seria "Emilka Piórko"
seria '' Rosę"
seria "lili


Katalogi Biblioteki Narodowej


Pisareczka od koteczka. Wszystkie Polki do lat 10 kochają Holly Webb
Linki zewnętrzne
Edit
Strona oficjalna Holly Webb
Holly Webb na stronie wydawnictwa Papilon
Holly Webb na stronie wydawnictwa Znak
Polska strona serii Zaopiekuj się mną
Kategoria:
Brytyjscy twórcy literatury dziecięcej i młodzieżowej
Menu nawigacyjne
Edit
Nie jesteś zalogowany
Dyskusja
Edycje
Utwórz konto
Zaloguj się
Czytaj
Edytuj
Historia i autorzy
Strona główna
Losuj artykuł
Kategorie artykułów
Najlepsze artykuły
Częste pytania (FAQ)
Dla czytelników
Edit
O Wikipedii
Zgłoś błąd
Kontakt
Wspomóż Wikipedię
Dla wikipedystów
Edit
Pierwsze kroki
Portal wikipedystów
Ogłoszenia
Zasady
Pomoc
Ostatnie zmiany
Narzędzia
Edit
Linkujące
Zmiany w linkowanych
Prześlij plik
Strony specjalne
Link do tej wersji
Informacje o tej stronie
Element Wikidanych
Cytowanie tego artykułu
Drukuj lub eksportuj
Edit
Utwórz książkę
Pobierz jako PDF
Wersja do druku
Dodaj linki
Tę stronę ostatnio zmodyfikowano o 09:33, 7 cze 2016.
Tekst udostępniany na licencji Creative Commons: uznanie autorstwa, na tych samych warunkach, z możliwością obowiązywania dodatkowych