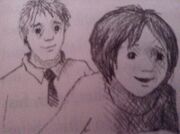 Mum and Dad are Grace's parents from the Holly Webb book Harry the Homeless Puppy.
Grace's Mum
Edit
Mum normally goes with Grace and Danny to the shelter after school.
Grace's Dad
Edit
At the new flat, when Grace finds out that Harry, a Jack Russell puppy, has been adopted by another family, she is very upset. Dad picks her up and hugs her, even though he is always saying she is too big for him to do that now.