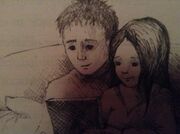 Mum and Dad are Evie's parents from the Holly Webb book Alfie All Alone.
Evie's Mum
Edit
Evie's mum is having a baby. Evie invites her to take a look at the Westie advert Evie has found on the noticeboard. She thinks over about getting Evie a puppy. Then very soon, she agrees to let Evie have one. Later in the book, after the family adopts Alfie the Westie puppy, she goes to the hospital to have the baby, and Gran comes to look after Evie and Alfie. The next day, she and Dad bring the baby home. Evie is very excited to see her new baby brother, Sam. Mum carefully gives Sam to Evie to hold. But over the next week, she crossly calls to Evie to hurry up for school because Sam has kept her and Evie awake all night with his crying, then things, even everyone, get worse because of Sam. They take Alfie to Riverside because Evie hasn't been paying any attention to him, but after they see how upset Evie was, they go back to get him.
Evie's Dad (Jack)
Edit
Evie's dad who is said to be called ''Jack'' is really enthusiastic, and likes dogs, and knows Evie would like a dog, because she wants a Westie puppy, even though just before her new baby brother arrives.